日本語のレシピは ビーガン、ベジタリアン情報満載の Hachidory から ご覧下さい。
The scorching hot summer is here !

I came back from Malaysia and Singapore two weeks ago.
Both are the tropical countries and it is hot all the year round.
Though I could enjoy the morning dew and cooling air in early morning, the temperature goes up rapidly soon and the daytime was very hot. 
However, when I came back to Japan, I reaffirmed the summer in Japan is hotter than those countries. 
Yes, I am feeling much hotter now. 
I know from my experience that I do not feel hot compared with other people and seldom require the air conditioner to cool down the room temperature. 
I felt too cold wherever I visited both in Singapore and Malaysia and needed to carry a thick long sleeve jacket and even a neck warmer as the setting of the air conditioner was too strong everywhere. 
But I need to switch on the air conditioner in the afternoon these days, otherwise I get drowsy and can't do my work.
You can imagine how hot this summer is !
When the weather is like this, I feel like eating something tropical.
I do not want to eat yang food, in other word, something heavy or something that tends to keep the heat inside the body.


So I use a tropical ingredient in today's recipe.
I usually insist on eating locally and seasonally for our health, for the environment, for the animals and for our planet.
But once a while we can explore something foreign, and satisfy our interests and color our lives to pinkish, though we still need to select the ingreients that minimize the sufferings of others.
"Kaya Toast "is the popular breakfast menu in Singapore (and probably in Malaysia too.)
It is the sandwich made from kaya jam, light texture thin sliced bread, and butter.  Kaya jam is made from eggs, coconut milk, sugar and pandan leaves which has the unique sweet fragrance.
Today's recipe is the vegan version of this "Kaya Toast". 
Though it may look and taste a bid different from the original one, I bet many of you would love it.   As for me, I can't resist eating a few pieces of it at a time !



June to July is the rainy season in Japan.
"rainy season" is called "Tsuyu" in Japanese, and it literally means "plum rain" and is written "梅雨". 
I like the way it is named and written in this way.
Because the Japanese plums are so charming and aromatic that it can erase the negative feeling towards the rainy season.
This year very little plums grew in our town though.
As I wrote about the plums already a few times in this blog, our town has lots of plum trees so we can see the green beautiful plums everywhere in this town during June.
They say the plum trees can bear the generous amount of fruit every other year. 
Therefore, this year was the year that they could not bear much fruits.
But it was too little.  
I could hardly see any fruit among the vigorous leaves. 
My neighboring organic farm from whom I buy the plums every year could not harvest any plums to sell to their neighbors this year.
Why do the ume trees bear lots of fruit only every other year ?
There is no reason.
That is the intention of the nature.
It is the law of the universe.
So we just have to take it. 
Every year I put aside one jar of umeboshi for preservation.
Yes, Umeboshi is already preserved food, but my intention is to preserve them for 100 years !  
Who knows that I can't taste them in 100 years later !

Luckily I could make some jars of Umeboshi this year too as Takahahi san who is a natural farmer living in Numazu in Shizuoka sent me some of his precious ume that he plucked from his ume trees.
So I could have my annual pleasure to do ume work this year too !.
I'm going to add red shiso leaves into this pot in the end of July.


Well, I go to the introduction of this month's recipe.
It is "Zucchini Salad with Ume Dressing Sauce "
You may have heard the word, "Zoodles".
It is the noodles made from zucchini.
It is named so simply because the zucchini is cut into thin strips like noodles.
So may be I should name this recipe "Zoodle Salad"
I'm sure you would love this salad if you like both the zucchini and umeboshi, salty preserved Japanese plum. 
If you have a spiralizer, you can make this very quickly, but even if you do not have one, the zucchini can be cut into noodles manually.
See how I slice it with the peeler and the knife.


The spring season is like a magic.
When I see the newborn leaves are swaying in the breeze, and hear the birds are singing in the field, I feel like as if I'm in the heaven. 
How fortunate I am to be able to have such a moment with them without any other people around me !  
I do not need any other things !!
Today's recipe is not related to the season.
You can make it in any seasons.
It is a very economical dish as the main ingredient is cheap in Japan.
What do you think it is ?
It is  
white. 
Usually rectangular shape (sometimes square). 
Soft, some are firmer and some are softer. 
Something Japanese people eat very frequently. 
A very important and useful ingredient for vegans. 
Made from soybeans.
I guess by now many of you know the answer.
It is tofu / soy bean curd !
The dish I am sharing with you today is "Tofu Teriyaki".  
It is easy to cook, tasty to eat, and cheap to buy. 
So you must try it ! 
I am also giving the idea of how to eat it with the appetizing photos at the end of the page.
Do you like strawberries?

I'm sure most of you do.
They look so pretty and are pleasing to palate of most of the people.
The season of the strawberries looks fading away in Japan, but on the contrary, it is going to start soon.
Visit this page that I posted a few years ago if you want to know why.
The strawberries are not only pretty and tasty, but very useful ingredient too. 
They humbly help me when I want pink color in my sweets making.
 Sakuramochi
Today, I'm going to share my "Ichigo Daifuku" recipe with you.
"Daifuku" is the glutinous sticky rice cake stuffed with the sweet red bean paste, and it is a traditional Japanese sweet.
But "Ichigo Daifuku" is not a traditional one.
Somebody invented this and it was spread all over Japan not so long ago.
When I first saw it, I was in shock, Oh ! the combination of a strawberry and sweet red beans ?  No Way !!
I shut it out.
But the times passed… I love it now!
May be my taste bud changed or I am more generous to the new idea or both....?
To make it look cute, I let only one strawberry sit on Daifuku, but when I eat it, I need to pop in another strawberry into my mouth.
This way, Ichigo Daifuku is tastier twice much !!
It is the best season of the year !
Everything is sprouting !
The greens and the colorful tiny wild flowers captivate my heart once I go out.
  Ohinunofuguri
Hakobe,  very tiny and sweet, yet very poweful  flowers







It is an awesome feeling to feel the warm sunshine on my back and the breath of the spring in the air!
Sakura, cherry blossoms have started blooming earlier this year. 
I think they will be fully blooming in a week time.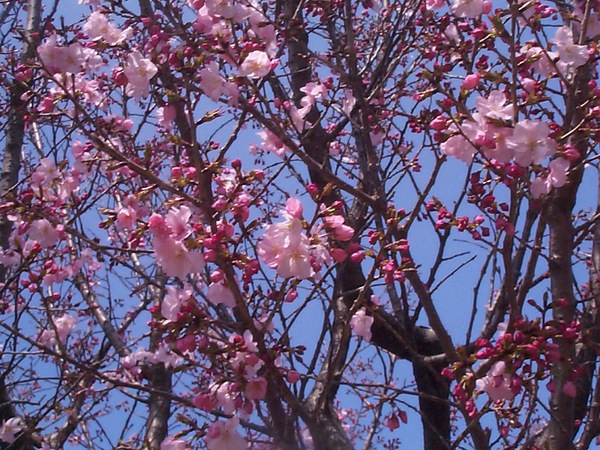 Life of Sakura is not long, it is only one to two weeks.
Therefore, you have to leave yourself to luck when you plan to visit Japan to enjoy Sakura in the spring, unless you are ready to move to northern places to catch the timing of the blooming.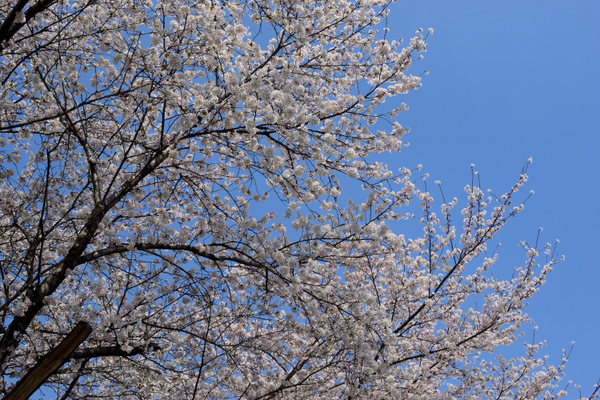 Japan is a long island, so there's more than one-month gap between the most southern part and the northern part.
Even if you missed the timing in Tokyo for example, most likely you can still see sakura fully blooming in Sendai or Hokkaido. 
Today I want you to enjoy the Japanese spring with your eyes first before going to the recipe of one of them.
For all the dishes, I am using preserved sakura blossoms.

This is my hand made preserved blossoms that I made last year using the sakura called "Yaezakura" which is more suitable for cooking purpose as it has lots of petals and its color is more pink than other types of sakura.
You can purchase them from the shops.   ( I am pasting the link in the receipe.)
I am serving you from the dessert...
Sakura shaped agar agar jelly
This is another version of  "Sakuramohi", 
Umegaemochi 
Here are the savory dishes...
Spring fresh vegetable salad
I selected the second easiest recipe for you to try.
So scroll down to get it !