"Do not let the daughter in law eat the autumn eggplants ".
This is a Japanese proverb.
There are two ways of interpretations.
One is, "The eggplansts are too cooling for the ladies especially when the summer is ending."
It is very considerate and thoughtful interpretation.
Parents in law are worried if their daughter in law  may not be able to bear the babies or get sick  if she eats the eggplants in autumn.
But another interpretation is quite mean.
"The eggplanst harvested in autumn is too tasty to let daughter in law eat."
I want to believe the first interpretation is the correct one.
It is already autumn here.
The air is getting clearer, and the sky looks more beautiful.
The wind is breezy and makes me feel so good when I feel it on my skin.
The songs of insects at night relaxes my soul.
But I know that it will soon bring sentimental feeling.
Till then, I want to enjoy this comfortable transitional season to my heart's content.
I already found the fallen persimon leaves on the ground the other day.
Rice crops are tuning brown and growing fatter.
Going back to the eggplants sotry...,
It is true that the eggplanst in autumn is tasty.
The flesh is more desnsed and the flavour is more condensed.
In Macrobiotics, it is considered very Yin vegetable,
but in autumn it becomes less Yin.
It is not as juicy as the ones of summer.
We can still enjoy autumn eggplant by different method of cooking.
I'll show you one of such ways today.
See how I prepare mock minced meat.
What is your most favorite summer vegetable ?
I love all the vegetables above.
But for me the summer cannot be the summer without
corns and green soy beans !!
(The picture on top is the flower of green soy beans in my garden last year,  
  the corn is from my friends field which is still bit too early to harvest,
  the green soy beans at the bottom are from my garden last summer.)
I think I would never get tired of them even if I had to eat them in each meal during summer.
The corn starts earlier than green soy beans, and it is the peak of its harvest now.
No other way is better than steaming and biting into the corn straight away.
What do you do with the husks and silk of the corns ?
If you do, it's such a waste.
Those can produce sweet, tasty and nutritous soup.
You can make it just by throwing those into the pot together with water, and simmer for some time.
This soup stock enhances the taste of vegetable soup and miso soup.
(Use only last few sheets of inner husk and discard the outer layers.)
Today I am going to introduce you " Corn Rice" which is sooo delilcious.
I made this rice into many onigiri, rice balls and brought  to the meeting of Animal Rights Center which is held monthly.  
All my buddies love them and asked for the recipe.
Therefore I contributed the recipe to the vegan information site, Hachidory.
If you can read Japanese, go to that site and see my recipes as well as other pages full of information of veganism in Japan including shops,restaurants and hotels.
It is a very simple recipe.
So just try before the season of the fresh sweet corns ends. 
日本語のレシピは、最後の方に書いてあります。
It is the midst of rainy season in Japan.
In fact Japanese people do not call this season "rainy season".
It is called "Tusyu" and it literally means "Plum Rain".
What a sweet word, isn't it ?
For me it is indeed a plum season, not rainy season as I live in a town full of plum tress.
It used to be just an unpleasant season before I moved to this town.
But since six years ago, June turned to be one of the exciting months.
You can see how I am excited during the plum season from my last year's entry.
Though all the plums were already fallen off the tress,
my home is now full of preserved ume in different forms. 
This year I made four jars of umeboshi/ dried plum preserved in salt.
They are waiting for the red shiso leaves to be accompanied.
I also made some bottles of ume jam.
The best part of jam is actually the seeds.
I love to mix them with water to make into juice.
The most fun moment comes after drinking juice, rolling the seeds in the mouth with my tongue.
The sweet and sour taste can last for some time in my mouth.
I tried the juice with mirin for the first time this year.
Mirin is a kind of sweet rice wine.
Since I totally stopped consuming honey since a few years ago,  I needed to try to make juice with other sweetners.
None of my trials were satisfactory, but this year's mirin version was tasty and I found it goes so well with plum juice.
(You need to evaporate its alcohol by boiling it first if you want to try this method.)
Today I introduce you very simple sauce using umeboshi/dried Japanese plum.
You can keep this for months in your fridge and it is very useful as it goes well with many kinds of vegetables and also with tofu. 
The spring is coming to the end in Japan.
The pink and yellow colours are fading and greenish colors are prevailing in the field.
A tone of the sky is changing to lighter blue.
The air is more moist.
We can still enjoy this transitional period though we have to say farewell to the most beautiful season .
Yes, we can always find our happiness in the food of that particular season no matter if it is too humid or too cold.
Guess, what I am writing about today.
The cabbage !!
It is a popular vegetable which is usually available all thruoug the year in all over the world.
The cabbage that is harvested in cold seasons and hot seasons are different.
We use the term Yin and Yang in Macrobiotics,
and the former generally can be applied for the hot season harvests,
and the latter for the cold season harvests.
Going back to about cabbage...,
we call "Haru Kyabetsu", literally means "Spring Cabbage" for the ones that we can harvest from spring to summer.
Its leaves are thinner and softer, and more moist.
The layers of the leaves are less densed having some air in between.
So as you may be imagining, it is more suitable for raw cooking or quick cooking rather than simmering or slow cooking.
Today I show you my most favorite way of cooking the spring cabbage.
It is so simple yet so delicious !!
日本語のレシピは、ビーガンライフをご紹介している Hachidory から ご覧ください。


Here boo, there boo, everywhere boo boo ....
It's a bamboo season here in Japan !
The bamboo sprouts are penetrating the ground every morning during this season.
We can't wait till they grow to the  height that we want it to be, but they have to be dug when they are still short showing only their tips over the ground.
Otherwise bamboos over grow and their flesh turn harder.
It is a hard work to dig them up.
The other day I went to Atarashik Mura's bamboo woods area to see the bamboo shoots, and also the resident digging them out.   
He told me he diggs about 500 bamboo shoots from April to May and it is a physically very tough job. (but sounded he is very proud of it and even enjoying his work.)   
I passed my message how I appreciate their hard work not only digging bamboo shoots, but also for sharing organic vegetables and rice that they grow for themselves,  taking care of the area which is full of beautiful wild flowers and plants, and opens it to public generously.     
(This Atarashiki Mura is my most favorite place in this town which in fact, I do not really wish to reveal.)
The bamboo shoots were so fresh and nice !!
It is my prilvillage to be able to cook and eat the bamboo shoot on the very day that it is dug up.
I made bamboo shoot rice as well as bamboo shoot and wakame sea vegetable soup, with other spring wild vegetables, warabi ohitashi and butterbur shoot mixed with sesame paste.
It was a such a luxury set meal to enjoy spring flovour !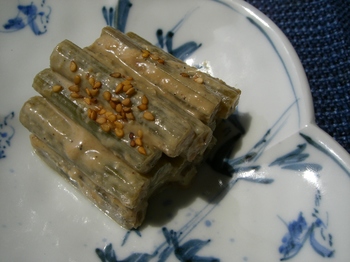 I introduced bamboo shoot salad recipe last year in this blog.
This spring, I am passing you a deep-fried bamboo shoot recipe.
For this recipe,  Bamboo shoot is not necessarily very fresh nor very tender.
The canned one can produce satisfactory taste and texture.
Your kids would love it as they look like meat balls !