Which do you prefer winter or summer ?
This is a question we often ask each other among friends and family since I was small.
When the summer came, I used to think I prefer winter, and the winter came, I used to think I prefer summer.
Now my answer is always the same.
I definately prefer hot season.
When it is cold, I do not want to get out of futon, Japanese bed in the morning, and am reluctant to move around even within a house.  
I often ended up staying in a kitchen whole day. 
"Lazy" may be is the best word to describe myself in the winter, though I actually do not like to be lazy. 
Because of this hardship - might sound exaggerated for those who prefer winter- , my meal time with piping hot soup and bath time in 42℃ hot water are super happiest moments for me. ( You may be wondering why I am so precise, but temperature of Japanese bath is usually controled by 1℃ unit, and it is not hot enough if it is 41℃, and it is too hot if it is 43℃ for me.) 
I cook most of my food with clay pots during winter.
The food cooked with clay pots is not only hot and can maintain its high temperature, but also very gentle in its taste and texture.   
I am showing off some of my clay pots today.
They look the same, right ?
Yes, they are same, but different in sizes.
These claypots are most freqently used in my cooking, and are often used for cooking rice, making soup and simmer the red beans.
I sometimes encounter very attractive clay pots and am tempted to get them, but I have to give up because I don't have any more space to keep them.
If I had much space and money, I'm sure I would be a clay pot collecter !
Well, I move to introduce the recipe of January 2018.
I am going to show you how to make vegan Ramen today!
"Ramen" is not a traditional Japanese food though I know it is very popular as Japanese food even in overseas nowdays.  
The noodles usually made from wheat, water, pH balance additives to make the noodle texture firm, and quite often with eggs, coloring and oil.
Therefore you'd better check the ingredient list when you purchase ramen noodles.
"Udon" noodles which is usually made from wheat, water and salt only is healthier alternative, and suitable for this recipe too. 
Look for fresh thinner udon for a replacement of ramen.
As introducing instant food using the ready made ingredient is not something that I can boast, I am also going to show you how to make "Shiraganegi" (literally means white hair leek).  
It is a bit time consuming work, so if you think it is too much, you can skip it, and top up with plenty of blanched bean sprouts instead.
But "Shiraganegi" is very usuful for other dishes too, and can make the food very presentable, so try it if you want to improve your cooking skill.
My heart is lighten up when I think of it as it has been sooo cold in the morning and evening here in Moroyama, Saitama, Japan.   
I just can't wait for the spring to come already.
Though I know the coldness will be harsher in January, I feel a sense of relief as I know that from the day after tomorrow, the sun starts rising earlier and setting later day by day.
Does your culture have special custom or event on the day of winter solictice ?
In Japan, we enjoy our bath with lots of Yuzu, yellow color winter citron.
It is said that the strong fragrance of Yuzu keep evil spirits away, and also that we will not catch cold in coming coldest season.
There is also custom to eat pumpkin on this day.
Pumpkin and Red Beans, food prescription to improve kidney function.
So I am thinking to make and eat the pumpkin dumplings, and enjoy the aroma of Yuzu during my bath time.   
( If you have thought that you also want to try it, be caoutious.  For some who have delicate skin, it could cause the rashes.  May be try with a few pieces first.)
My town produces many kinds of fruit, nuts and grains all the year round as the land is fertile, I guess.
The town boasts that Yuzu started from this town in Japan. 
When I take a walk, those sweet looking yellow fruit are waiting for me wherever I go.  
I've talked lots about Yuzu, but the recipe I am going to introduce today is not related to it.  
It is something suitable for coming Christmas !
Chiristmas in Japan is celebrated in a family with small kids or between the unmarried couples. 
It is not a traditional celebration nor a holiday as most Japanese are non Christians. 
It is just a day of having fun.
If I ask the kids what is the Chtistmas, they often answer
 " The day for getting presents and eating a whole cake decorated with cream and strawberries."
For me, it is the season that I can enjoy cooking vegan Christmas dishes, and have a party with kids.
I am sharing one of such recipes with you today....
The leaves turned yellow and red has started falling.
Yes, the autumn is short, shorter than any other seasons.
May be because of that, I always feel like clinging to this season.
Seeing the falling leaves is something that does not make you feel warm.
It brings a sense of loneliness, but with a kind of solomness.
It is not so bad to see the falling leaves after all.
On the contrary to this sense of depletion, our appetite jump up in fall season.
Fortunately, it is the season of harvest too, and the nature blesses us plenty of staples.
The newly harvested rice is moist and sweet.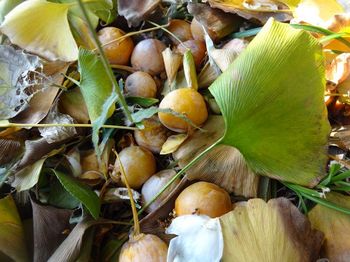 The ginko nuts fallen from the trees can be picked up from the ground as much as I want, and they are plump and chewy.
The carrots are getting juicier and sweeter.
It is the principle of the nature that our appetite increse when the nature produeces much staples.
So don't go for diet from the autumn to the winter !
Because our bodies unlikely want to slim down during these seasons, and resist to all the attempts made by you as they try to accumulate the fats by any means.
Anyway, believe it or not, it is such a waste not to enjoy those tasty and powerful seasonal grains and vegetables.
Today, I am sharing one of the seasonal Japanese vegetable recipe with you.
"

Satoimo"

is the Japanese name, and it is often translated to "taro" in English.
But unlike the taro which is the main staple in the tropical regions, satoimo is usually harvested in cold season here in Saitama.
It is very slimy, and many Japanese people enjoy this unique texture.
They are often simmered with dashi soup stock and soy sauce. 
I like to steam them and eat with various sauce that I made.

It can be a nice ingredient for Miso soup too.
These are the patties with mashed satoimo, hijiki sea vegetable and grated lotus root.
Satoimo cannot be omitted for "Konyasai no Umani "/ simmered root vegetables.
I deep-fry them once a season for my son.
Which one do you want to  learn ?
I chose the one that experimented recently and turned out very tasty.
At last the blue sky is back here after having long wet wet days in October.
Actually the October is  the second most comfortable month here in Saitama, Japan.  Not hot, not cold and not rainy.
But it seems that somebody high up in the sky wanted to change it this year, probably thinking it is good for us to have cold rainy days .
We can always find something that can keep ourselves occupied or to enjoy ourselves, no matter if it rains or not.
How fortunate we are to have freedom to move around, to feel the fresh air, to decide what to do, to have dream for the future. 
The autumn is also the season of harvests.
Rice, chestnuts, ginkonuts, wallnuts, sweet potatoes, persimmons, etc....
I often feel like plucking the nuts and fruits when I see them growing on the trees.
I think that impulsive emotion is an instinct as a living creature.
The most prominet tree in this season is the persimmon as its orange color of the fruit stands out in the scenery of autumn.
The most common type of persimmon in this region.
The persimmon leaves are so beautiful and I always bring them back home when I found the leaves on the grounds.
This picture was taken in June.  The persimmon was still green color.
Many people have persimmon tress in their gardens, so I can enjoy lots of them during this season.  ( but I have to be careful not to eat too much as the persimmon is Yin and cooling . )
These are the dishes that I prviously shared the recipes in this blog.

Below is the another persimmon dish called "Shiraae" in Japanese, and literally it means "mixed with white".
The persimmon is mixed with the paste made of tofu and white sesame seeds.
The recipe that I am going to introduce you today is not persimmon recipe, but soy milk yoghurt.
It goes very well with persimmon and other autumn harvested fruit such as grapes and pears.
There are more than a few ways of making vegan yoghurt.
I usually use soy milk, and make different taste of yoghurt by adding different kind of ingredients to develp into yoghurt which is rich in lactic acid.
Lactic aid increases good bacteria, so to be called probiotic bacteria in our intestine.  
It is especially beneficial to those who tend to have bowel movement problems.
Today I am going to show you one of the three methods, which requires only soy milk and brown rice for ingredients, and very easy to make.
"Do not let the daughter in law eat the autumn eggplants ".
This is a Japanese proverb.
There are two ways of interpretations.
One is, "The eggplansts are too cooling for the ladies especially when the summer is ending."
It is very considerate and thoughtful interpretation.
Parents in law are worried if their daughter in law  may not be able to bear the babies or get sick  if she eats the eggplants in autumn.
But another interpretation is quite mean.
"The eggplanst harvested in autumn is too tasty to let daughter in law eat."
I want to believe the first interpretation is the correct one.
It is already autumn here.
The air is getting clearer, and the sky looks more beautiful.
The wind is breezy and makes me feel so good when I feel it on my skin.
The songs of insects at night relaxes my soul.
But I know that it will soon bring sentimental feeling.
Till then, I want to enjoy this comfortable transitional season to my heart's content.
I already found the fallen persimon leaves on the ground the other day.
Rice crops are tuning brown and growing fatter.
Going back to the eggplants sotry...,
It is true that the eggplanst in autumn is tasty.
The flesh is more desnsed and the flavour is more condensed.
In Macrobiotics, it is considered very Yin vegetable,
but in autumn it becomes less Yin.
It is not as juicy as the ones of summer.
We can still enjoy autumn eggplant by different method of cooking.
I'll show you one of such ways today.
See how I prepare mock minced meat.