The spring is coming to the end in Japan.
The pink and yellow colours are fading and greenish colors are prevailing in the field.
A tone of the sky is changing to lighter blue.
The air is more moist.
We can still enjoy this transitional period though we have to say farewell to the most beautiful season .
Yes, we can always find our happiness in the food of that particular season no matter if it is too humid or too cold.
Guess, what I am writing about today.
The cabbage !!
It is a popular vegetable which is usually available all thruoug the year in all over the world.
The cabbage that is harvested in cold seasons and hot seasons are different.
We use the term Yin and Yang in Macrobiotics,
and the former generally can be applied for the hot season harvests,
and the latter for the cold season harvests.
Going back to about cabbage...,
we call "Haru Kyabetsu", literally means "Spring Cabbage" for the ones that we can harvest from spring to summer.
Its leaves are thinner and softer, and more moist.
The layers of the leaves are less densed having some air in between.
So as you may be imagining, it is more suitable for raw cooking or quick cooking rather than simmering or slow cooking.
Today I show you my most favorite way of cooking the spring cabbage.
It is so simple yet so delicious !!
日本語のレシピは、ビーガンライフをご紹介している Hachidory から ご覧ください。


Here boo, there boo, everywhere boo boo ....
It's a bamboo season here in Japan !
The bamboo sprouts are penetrating the ground every morning during this season.
We can't wait till they grow to the  height that we want it to be, but they have to be dug when they are still short showing only their tips over the ground.
Otherwise bamboos over grow and their flesh turn harder.
It is a hard work to dig them up.
The other day I went to Atarashik Mura's bamboo woods area to see the bamboo shoots, and also the resident digging them out.   
He told me he diggs about 500 bamboo shoots from April to May and it is a physically very tough job. (but sounded he is very proud of it and even enjoying his work.)   
I passed my message how I appreciate their hard work not only digging bamboo shoots, but also for sharing organic vegetables and rice that they grow for themselves,  taking care of the area which is full of beautiful wild flowers and plants, and opens it to public generously.     
(This Atarashiki Mura is my most favorite place in this town which in fact, I do not really wish to reveal.)
The bamboo shoots were so fresh and nice !!
It is my prilvillage to be able to cook and eat the bamboo shoot on the very day that it is dug up.
I made bamboo shoot rice as well as bamboo shoot and wakame sea vegetable soup, with other spring wild vegetables, warabi ohitashi and butterbur shoot mixed with sesame paste.
It was a such a luxury set meal to enjoy spring flovour !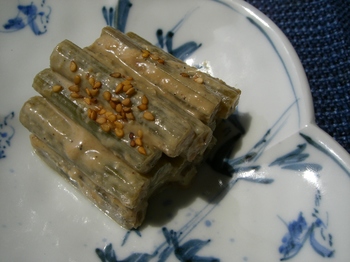 I introduced bamboo shoot salad recipe last year in this blog.
This spring, I am passing you a deep-fried bamboo shoot recipe.
For this recipe,  Bamboo shoot is not necessarily very fresh nor very tender.
The canned one can produce satisfactory taste and texture.
Your kids would love it as they look like meat balls !




日本語のレシピ、最後に あります。


What is the first thing to tell you that the spring has come ?
For me, it is the  the wind blowing from the south on one sunny day, 
A tiny red wild flower called "Hotokenoza" in the field, 
A few pretty plum flowers that have just bloomed.
One more thing that makes my heart beat with excitment is
"Fukinotoh / Japanese butterbur shoot.


A box of vegetables and fruit sent by Mr. Takahashi from Shizuoka prefecture is like a fortune bag for me.
(The background picture of the website of my cooking class is the vegetables that he sent to me.  I change it according to the season.   Check it once a while to enjoy Japanese seasonal vegetables.  http://kurinascooking.la.coocan.jp/ )
I can't get to know what are inside  till I opened the box each month.   
So it is an exciting moment to remove the packing tape from the cardboard box.  
His vegetables are so precious for me as they are raised very natural way. 
They are different from organic vegetables, which are often raised with organic fertilizer, involving weeding of unwanted grass and also sometimes killing of unwanted insects.
Every year I see my first Fukinotoh of the year in the box of Takahashi's vegetables either late January or early February.
Just a few pieces of them are wrapped in the newspaper.
"Oh, my goodness !"  I cannot stop uttering this word when their site popped into my eyes.
They are tiny, light green,  roundish, and look very delicate and fragile.
Fukinotoh tells us the spring is around the corner even though it is still very cold in the morning and night, and makes me feel so delighted.
Fukinotoh bud, has not opened yet.
I am showing you how I enjoy the first taste of spring today.
日本語の竹の子の簡単レシピが 最後の方に あります!
Japanese people like to eat wild vegetables in spring.
Most of them have bitterness in them.
But people perceive it as a taste of spring and enjoy variety kinds of wild vegetable cooking in different methods.
One of the most popular vegetables is Takenoko, bamboo shoot.
It grows  astonishingly fast.   It can grow more than 1m a day. 
It means nearly 5cm in an hour.
Therefore it is considered very yin in Macrobiotics.
We can't wait for long to dig it up when it penetrates the surface of the ground and shows its tip.
I went to the mountain to dig them up with my son when he was small.
I was advised to dig the short ones which have probably sprouted just on that day, as they are soft and taste nicer.
I don't dig bamboo shoots by myself anymore, but I boil them occasionaly every year in April to May.
Mr. & Mrs. Takahashi who grow the vegetables in a very natural way,  with no chemicals like pesticids and fertilizers, and even with no weeding and no organic fertilizer.   ( It is more natural method than organic farming.), sends me lots of bamboo shoots.
I must tell you preparation of wild vegetables is quite a big job, peeling, washing, soaking, boiling etc...
I often have to spend one whole day for these works when I received a box of spring vegetables from them.
But don't worry, there are alway ready made.
I'm sure you can always purchase the boild bamboo shoost in cans.
But, but I want you to use the fresh one for today's recipe.
Therefore this one is more suitable for people who can obtain freshly boild bamboo easily or who is willing to start from the scrach.  (You can refer to youtube for this job, many people put up their own methods.)
Here's the my favorite recipe " Bamboo shoot and Wakame salad"
For this recipe we use the very top parts of bemboo shoot which look like a very thin flat sheets covering the tip of the  shoot.  But if this part is not available, you can make this salad with the pointing tip parts of the bamboo shoot, which is softer than bottom parts.
見つけた時に、春の訪れを知り 心躍るもの、
そして それを手にした時に、思わず愛おしくなるもの、
それは、なんでしょう、、、。
それは、今年は 1月のお野菜ボックスに 3粒だけ ちょこんと 一番上に置かれていました。
自然農法を営む 沼津の高橋さん から 送られてきたものです。
「わ~っ、まだこんなに寒いのに 春が待ちきれずに顔を出したんだ!」と ちょっとドキドキした瞬間でした。
それから数日後、近所で 無農薬野菜を作っている宮寺さん が、見つけたからと、一粒だけ わざわざ 家まで持って来て下さいました。  
まるで、生まれたばかりの赤ちゃんのようでした。
自然を身近に感じながら生活している人だったら、それが何か すぐおわかりだと思います。
ふきのとうです。
これからの季節には もっとたくさん生まれてきますから、手に入りやすくなりますね。
ふうきのとうで 私がよく作るもの それは、ふきのとう味噌です。
きょうは、そのレシピを ご紹介しま~す。
ご飯と一緒に食べるだけではなくて、いろんな料理に活用できる 春ならではの、おいしくて便利な常備菜です。