But I can expand my size  three times bigger in the water.
My shape changes to oblone when I am expanded.
Japanese people like me to 

 transform into many dishes.
I think thier lives could not have been sustained without me in thier long history.
My origin is China, and I was planted and eaten mainly in China and Japan for thousnd years.
But now we are planted in many countries.
People want  more and more of us, so they are cutting countless trees of Amazon to make the space for us.  
Are we honered to be given the opportunity to be prosperous ?
May be yes,  because we have such vital enegry, whoever digest me in one's body, one can be energetic and vital too.
I feel good when I do something good for the others.
But honestly to say, I am not happy.
Because I came to know that we are taking away the food and the places from the native animals, destroying the nature and harming the habitats.
But it is not our own will.
We are forced to multiply by humans.
Do you know why people want more of us ?
Cause people want to feed the many animals.
They want more and more animals to grow and become fat, so that more and more people can eat more and more meat.
What is good about creating and rasing  so many animals ?
People get fat and sick by eating animals.
Countless animals are tortured and suffering.
I'm sure nobody is willing to kill the living creatures.
I can not find anything good about raising, killing and eating animals.
I don't want to play a role to torture and kill the animals, make people sick and destroy the planet.
Oh, right,  I was giving you clues to let you guess who I am, and strayed to the story because I had an urge to tell you the truth.
I guess many of you can guess who I am now.
If you are still not sure,  I'd give you a last clue.
I am a main ingredient of miso, tofu and soy sauce.
Now I pass my pen to my mum who likes me so much.
She would  share her nice recipe using me.
It is my pleasure to be transformed into many dishes to nourish people and earth.
I wake up with the sound of pheasant every morning in this season.
I want to mimic its sound to tell you how he makes sound, but it is not easy.
We have an onomatopoeia to describe it in Japanese traditional picture books for kids.
But in reality, the pheasants are not making sound like that at all.
The pheasant is not the only bird I see here every day.
There are many kinds of adorable birds visiting me. 
I always feel how I am blessed to be sorrownded by the songs of variety kinds of birds.
Each of their sounds is unique and beautiful.
They echo in the air, and melt my heart.  
How lucky I am to be able to listen to these beautiful strings every day without paying a single penny nor taking trouble to travel somewhere.
A song which was popular when I was younger has just come across to my mind.
♪? "I'd rather be a spallow than a sanil, yes, I would, if I could, I surely would"
I guess what in mind of PaulSimon and Garfunkel, and me are very similar,
though I think the snail is also happy as he can still move around in his own pace.
I am sure that countless living animals on this earth would sing
♪? "I'd rather be a bird than me, yes I would, if I could, I surely would."
I want to share this peacful moment with them.,,,
Now I feel guilty to talk about the yummy food that I am enjoying these days....
But I carry on introducing them to you as I believe sharing my recipes plays a role to help them
though it would be a teeny weeny step.
Onions harvested in spring is a delicacy in Japan.
They are juicy, soft and sweet.
We can enjoy this texture and taste only now, so I cook those fresh onions every day.
Onions growing in the vegetable patch

Yes, there are countless ways to cook and eat fresh onions.
I just steamed it.  No broth was added, this juice is all from the onion




I am going to introduce you a very easy (may be too easy), yummy and useful recipe today.
♫♪♬    Merrily Merrily Merrily Merrily life is but a dream  ♫♪♬
This song poured out from my mouth when I am taking a walk these days.
Yes, the spring is here at last !!
The air smells fresh and green,
The wild flowers show their tiny faces shyly above the ground . 
The plum blossoms are fully blooming.
Oh, my !  how I am blessed, 
I don't need any other things other than spring !
I feel so happy and contented,
though a kind of guilt and sympathy to those who can't reach to this freedom always creep into my mind.
It is the "Shunbun" / spring equinox day tomorrow, and also is now in the midst of  "Ohigan" in Japan.
"Ohigan" lasts 7 days starting three days before the spring eqinox day (or autumn equinox day ) and ending three days after that.  
Some people visit the grave to pray for the ancesters and clean up the area.
Some do not, but eat "Botamochi" or "Ohagi" .
Some do not practice anything, but remember that the day time will be longer soon.
Most of the Japanese people do no know why they visit the grave on "Ohigan" and eat "Botamochi/ Ohagi" during this period.
It is considered that the heaven or the world for the deceased exists in the west, and this actual living world exists in the east.  Therefore the day that sun rises from the very east and sets into the very west is the best day to connect the living and deceased.  
"Botamochi/Ohagi" is made of glutinous rice and sweet red beans.


The combination of rice and red beans had so much meaning since old days.
In fact, modern nutritional study revealed that it has a big nutritious value in those combination.   
Japanese people in older  days knew it from their experience.  
Actually "Botamochi " and "Ohagi" refer to the same thing.
This sweet cake is called "Botamochi" in the spring, and "Ohagi" in the fall.
Why ?
In the spring, the flower of Botan blooms, and in the fall, the one of Hagi blooms.
("mochi" means glutinous rice cake.) 
But usually people in Kanto area use the word, "Ohagi" for both spring and fall season ones.
Whenever the spring equinox day  or autumn equinox day approaches, I feel like eating  Ohagi and cook it for myself .
I am sharing a recipe of three color "Botamochi/Ohagi" of different flavors today.
Red beans are indespensable ingredient for Japanese sweets making. 
I would say most of the traditional sweets are made from red beans.
"Anmitsu"/Japanese fruit punch " always goes with red beans.
Ichigo Daifuku



Maccha Purin / Green Tea Pudding
We can buy the ready made one from the supermarkets any time.
But it is often too sweet, and the taste of red beans are often camouflaged by the over usage of refined sugar. 
It is always much nicer to make it ourselves.
So today I'm going to share my method of making sweet red beans with you today.  
The colder the weather becomes, the clearer the sky becomes.
That is the characteristic of winter in Kanto area of Japan.
Though the cold air sometimes makes me sigh,
the bright blue sky also does so when I look it up.
That is the best part of  winter here.
The other day, I spent a few hours for driving to see Mt. Fuji.
Mt. Fuji looks most beautiful in winter.
It was freezing cold there, and I had the coldest sensation I've ever had.  
But Mt. Fuji was just breathtaking.
That was the most beautiful Mt. Fuji that I had ever seen.
"Magnificent", "Godlike".   Those were the words that came up to me.
Mt. Fuji and Lake Yamanakako


I do recommend you to visit Fuji 5 Lakes to view this stunning view of Mt. Fuji if you visit Japan in winter.
Yes, it is still very cold in the morning here.
So I am going to introduce you another poka poka dish for you today.
(poka poka is an onomatopoeia to express the feeling or sense that make us warm and comfortable.)
There is an important ingredient for it.
"Sakekasu " is the by product of sake/ Japanese rice wine, and this word is usually translated to "rice wine lees".
During sake making process, there is a stage that wine is extracted from the fermented rice by pressing.  
"Sakekasu" is the ramainder left in the bag.
Unlike soy pulp which is the by-product of soy mik, "sakekasu" has creamy texture, and it
 has an alcoholic smell as you may be imagining.
It is a mighty ingredent for my cooking.
turn the soy milk into yoghurt,
raise the bread dough working as a yeast,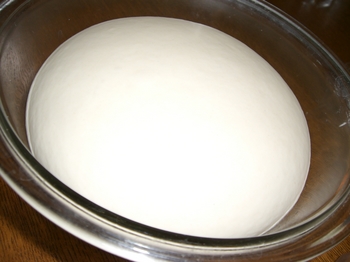 It can aso produce cheesey texture and taste.
I am going to show you how to make a traditional and most popular sakekasu dish in Japan today.
As it is such a unique ingredient, I have not found any replacement for sakekasu.
So this recipe can be replicated if you can get the "sakekasu".